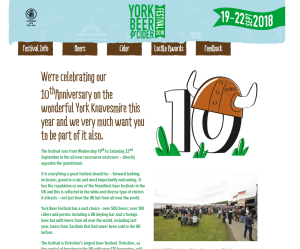 Information giving
Making sure visitors know what they need to
The York Beer and Cider Festival has been a regular part of the city's calendar for a long old while. However, the volunteer organisers have never quite embraced how much digital media could help them promote the event. That is until we came along! See Green loved working with the team to develop a fresh, and importantly useful, website as the festival continues to grow.
Tick, tick, tick
Making choosing beers easy
The revamped website continues to use the beloved branding, but is refreshed for each festival. Visitors are able to see the full live beer list, with any last minute changes, in the run up to the festival. Best of all it means that we get a sneaky peak so we can choose what we might sample - well it'd be rude not to! The responsive version of the site is super well used, especially during the festival, and is used in conjunction with the prointed beer brochure. 
Visit www.yorkbeerfestival.org.uk to view the website