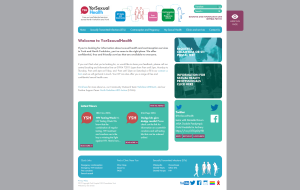 Supporting local services
Creating fresh and innovative tools
See Green have worked alongside the NHS on a number of local and national projects over the years. YorSexualHealth provide a confidential, free service to those in need of information about sexual health and contraception services in and around York.
Lending a hand
Demystifying sexual health services
The YorSexualHealth website is built using our bespoke Content Management System meaning the site is regularly updated with the latest information and is mobile-friendly, so it's always at your fingertips.
The site allows visitors to securely request chlamydia test kits and STI postal tests, with their information safely stored in the CMS until the details are retrieved, and then no copy remains online, in accordance with the Information Governance.
A 'hide this page' tab helps visitors feel more able to look at the site for what can sometimes be an embarrasing subject.
Visit www.yorsexualhealth.org.uk to view the website.