It's behind you
Bringing the fear alive
Hallowscream at York Maze is a terrifyingly entertaining night of fear and fun with 5 separate live action haunted house attractions.
A 9 day Halloween-inspired special event at York Maze, it runs from 7-11.30 each night for an evening of scares and surprises.
Like the maze, it grows bigger and more popular by the year and needed a new website to reflect this.
Setting the scene
Preparing visitors for what lies ahead
The dark, spooky steam punk design is the perfect look to attract thrill-seekers, the mobile-friendly element means everything you need to know about the event is in the palm of your hand.

Visit www.yorkmazehallowscream.co.uk to view the website.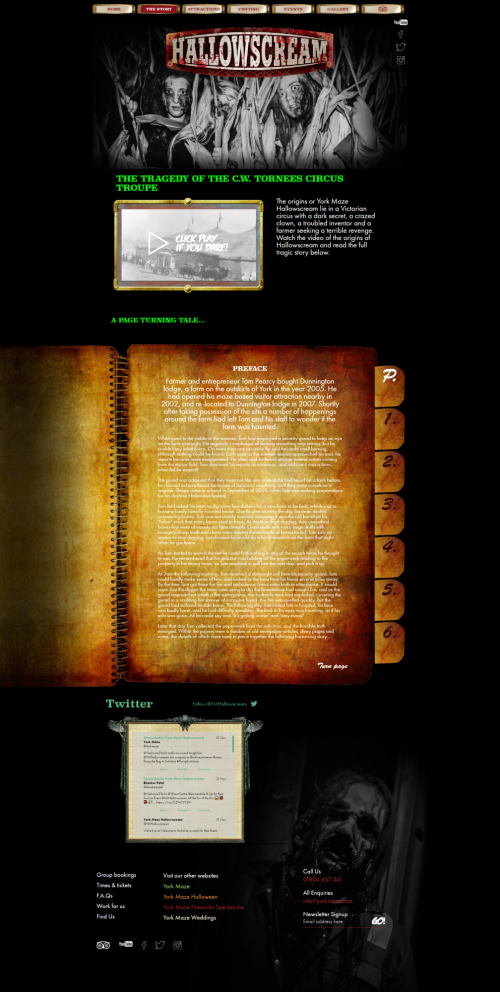 "I have found working with See Green on our website to be great. They are responsive, understanding and professional.
We are very pleased with the finished product and the CMS system they have implemented is so simple to use even I can manage it!! They have been excellent in setting us all up on the Gmail system, and this has allowed us much more flexibility in the way we all work. Thanks See Green!"
Tom Pearcy | Owner, York Maze