York Mind
"Working with See Green has been an absolute pleasure - from the outset it was clear that they 'got us' and were constantly looking for ways to improve our digital presence (making it easy for service users to access the right information, volunteers to understand what opportunities are available, and for donators to do so efficiently). See Green were supportive, patient and flexible…recognising that requirements change throughout the design/build process. I would have no hesitation whatsoever in working with them again or recommending their services."
Paul Yeomans | Chair of the Board of Trustees, York Mind
Scroll down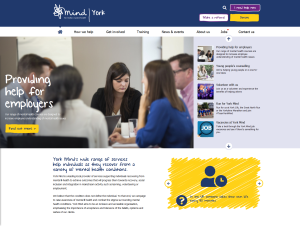 York Mind
Helping individuals recover from mental health conditions.
York Mind is a leading local provider of services supporting individuals recovering from mental ill-health. The charity has a number of audiences, from services users to their loved ones and friends, businesses, fundraisers and stakeholders.
The website needed to reach out to all of these audiences, to engage any visitor to the site, no matter what their reason for the visit.
Best foot forward
Making life easier for York Mind
Just two weeks after the new website went live, the charity has had three times the number of people signing up to the York 10k on behalf of York Mind.
The ability for York Mind staff to be able to create their own forms, especially when it comes to the many different fundraising opportunities, means that gone are the days of filling in paper versions, or emailing a specific team member.
The charity gave out all of their places for York 10k in record time and even asked for more places to be allocated to them! As well as being great news for fundraising, it means that the fundraising team can concentrate on other things rather than admin and drumming up support!