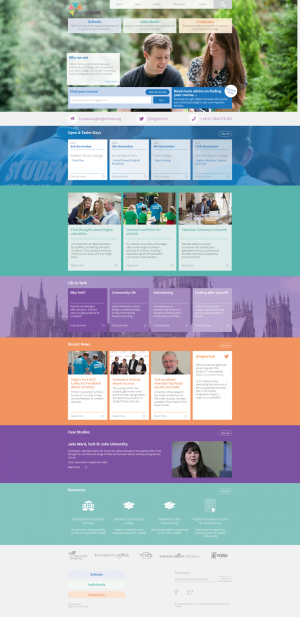 Well-planned
Three audiences, targeted messages
Higher York is a partnership between Askham Bryan College, City of York Council, the University of York, York College and York St John University.
The mission of the partnership is to complement the activities of partners in order to facilitate access to higher-level learning, progression and provision through innovative joint-working; underpin the economic and social agendas of the City of York and adjacent areas through maximising and promoting the positive impact of Further and Higher Education; and exploit other appropriate opportunities for mutual benefit between partners.
Intuitive design
Finding the perfect course
The website features three distinct areas as well as general information, and one of the most well used parts of the website is the course finder which shows a huge range of part and full time courses available across the county. Courses from all of the partner establishments are added and potential students are able to search using the filtering.
Visit www.higheryork.org to view the website.