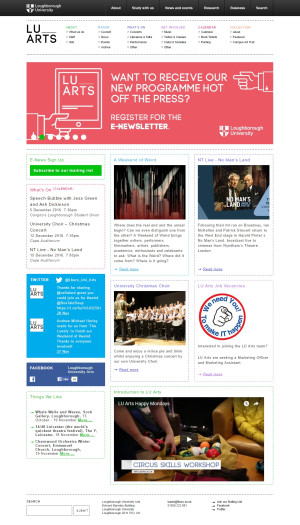 Information giving
Promoting the arts
The University of Loughborough Arts department tasked us with creating a useful website for visitors, and as well as details of what's on, news and other information we've created a useful event calendar, where some events can be booked online using a chosen box office tool, all in keeping with the website's style and brand.
Helping the administrators
Making updating the website easy
This site uses our CMS system to manage the university arts department website, giving flexibility to include more than one visual template within the single site.
The contemporary design coupled with the functionality of the site make this a useful resource for staff and students alike.
Included within the site are e-newsletter and mailing list tools which integrate into their existing mailing lists database.
Visit www.arts.lboro.ac.uk to view the site.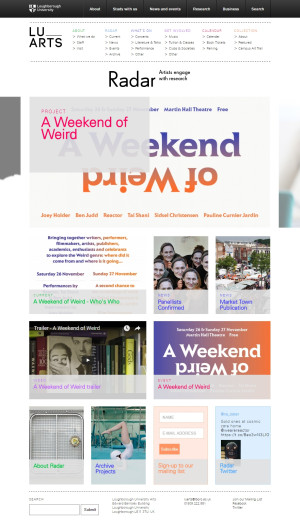 What the client said:

"See Green has created a website that is extremely simple to use but at the same time is highly effective in helping us to achieve our goals. The greatest compliment is that none of the team fear using it - we can all easily upload information, access data, build up our mailing list and send out attractively presented newsletters."