Google My Business - Explained!
So, you've got a beautiful new website- what's next?
Google My Business (GMB) is a free tool which will play a crucial role in increasing your business's visibility to customers online. Once setup, GBM allows your business to appear in your local area with ease, transforming the process that customers now take in finding the information, product or service they require.
When a customer searches for a business on Google, a small GMB profile appears on the right of the screen. Below the profile image and map pin the profile displays buttons for taking users directly to the website alongside directions to the business address. The profile also provides the consumer with useful knowledge about your business such as contact details, opening and closing hours and a reviews section. 
Why should you get Google My Business?
GMB will not only make it easier for customers to find you physically (through location on maps), but it will also make you easier to find digitally too. In terms of connecting business with people at the exact time they are looking for a service in their area, nothing comes close to the reach of Google, which is the starting point for most people searching online for information. So, GMB improves your search visibility on google, which will increase your business prospects. Not to mention, when prospective customers are looking for a local business, they are generally ready to make a purchase; people don't google "the best bakery near me" unless they are hungry and ready to eat some delicious baked goods ASAP. 
Another great benefit of GMB is the ability to gain trust with customers. Google makes it very difficult for unscrupulous businesses to attain good rankings in the local search results, therefore the reviews and ratings on a GMB are very trustworthy and often validates a customer's choice of what service to use, because who doesn't want a 5 star, "outstanding" curry on a Friday night?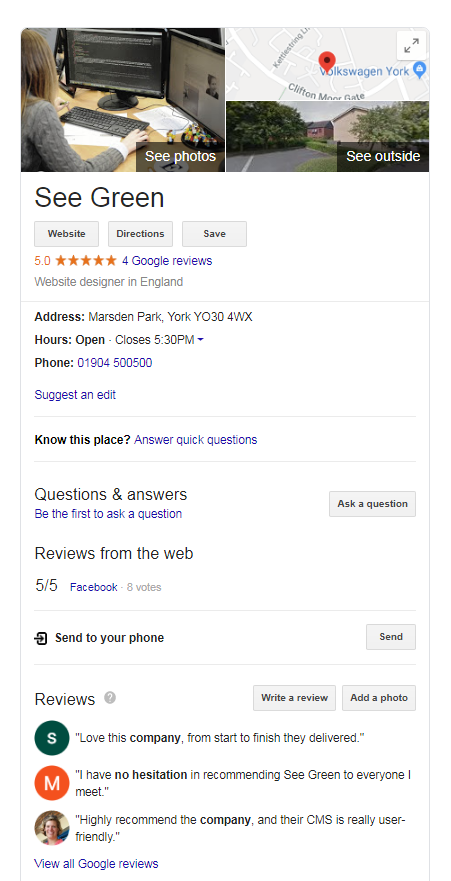 Top Tips for Perfecting your Profile:
1. Upload great quality photographs
Google found that businesses with photos receive 35% more clicks  to their websites and 42% more requests for driving directions than businesses without them. So get some great pics that represent what your business is about, preferably in the most vibrant and attractive way. A professional photographer knows how to do this best so it could be worth splashing out for some snazzy snaps for your website. 
2. Encourage your customers to leave reviews
Customers trust reviews, a survey found that 91% of consumers regularly check online reviews and 84% trust them as much as a personal recommendation. So, the more positive reviews on your GMB account, the more business you will drive. Additionally, the companies with positive reviews will be pushed up in the search rankings. 
3. 
Keep your profile up-to-date
Don't forget to update information such as location, contact details and photographs updated on your website - your customers want to know exactly what they're getting into!
Doesn't this all this sound great? Learn how to get yourself signed up here